Hopefully the weeding has been done allowing you time to enjoy the garden with its fragrance, colours and lush green growth with just the occasional deadheading of flowers to encourage more.
When temperatures are soaring make sure pots are watered regularly and thoroughly, morning or evening and not in the sun which would scorch plants.  Watch for garden plants especially newly planted and water well if needed.  A long thorough watering carried out occasionally encourages the roots to go down and is more beneficial than a daily spraying of plants, when water would soon evaporate and create surface rooting.   Water the soil rather than spray the plants.
Lawns may look a bit dry and again, if watering, this needs to be thorough as small amounts would really be water wasted.  I prefer to leave them and just enjoy the rest of the garden.   Even if the grass is dry and yellow, it will soon come back again into green growth after some rain.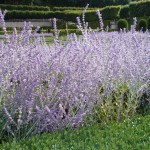 Plants to enjoy, especially in hot sun which brings out the fragrance – lavender and herbs or Perovskia (Russian sage) with a blue  haze of flowers and silvery stems.
Other fragrance from climbers such as Trachelospermum jasminoides, an evergreen with small white flowers, and of  course honeysuckles or Jasmine.  As the early summer flowering plants finish, longer flowering plants follow, many which will last into autumn such as penstemons, sedum, Echinacea and the tall airy Verbena bonariensis.  Gaura is a pretty plant with delicate butterfly-like flowers of white or pink and will do well in hot dry conditions.